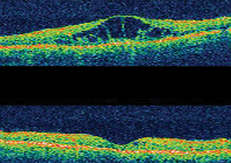 Macula Edema in diabetes is defined as retinal thickening within 2 disc diameters of the center of the macula. It results from microvascular changes that occur in the retina and compromise the blood-retinal barrier. The retina allows you to see fine details clearly. In other words, with Diabetic Macula Edema (DME), the macula – the center of the retina that controls central, fine vision – becomes swollen which causes blurry and washed out vision. This can occur for people with diabetes, when high blood sugar levels damage blood vessels in the retina. It can ultimately lead to severe vision loss or blindness.
Causes
Diabetic Macula Edema is fairly common in people who have diabetes. Of the 29.1 million Americans who suffer from diabetes, there are 1.5 million who have been diagnosed with DME.
How to Know the Severity of DME
The severity of Diabetic Macula Edema is dependent on a couple of different factors:
The degree of diabetic retinopathy
Amount of time person has had diabetes
The type of diabetes
Severe hypertension, very high blood pressure
Fluid retention
Hypoalbuminemia, or low protein in body fluids
Symptoms of Diabetic Macular Edema
In its early stages, DME doesn't show any warning signs. However, detecting it early is the best way to prevent any vision loss. You may have DME if you have any of these vision changes:
Small patches of vision loss
Colors seem to be "washed out" or changed
Straight lines look bent or warped
Retinal thickening within 500 µm of the center of the fovea
Hard, yellow exudates within 500 µm of the center of the fovea with adjacent retinal thickening
At least 1 disc area of retinal thickening, any part of which is within 1 disc diameter of the center of the fovea
Treatment
Thankfully, the U.S. Food and Drug Administration (FDA) has gone ahead and approved the eye drug, Eylea, to treat DME.
Eylea was tested for 1 year, as a part of Phase 3 study, and proved to help improve the eyesight of patients that were receiving bi-monthly doses after five initial monthly doses, thus allowing them the ability to read two more lines off the eye-chart compared to those who were placed in a control group. Eylea was designed to prevent vascular endothelial growth factor (VEGF), a protein that inspires blood vessels to leak and the growth of new blood vessels.
Eylea is given as an injection medication, originally intended to treat wet macular degeneration (a disease of the eye that results in a loss of vision at the center of the field of vision when blood vessels abnormally leak fluid into the macula) and was approved in late July for use of expansion.
Studies have shown that treatment with Eylea helps improve and maintain vision with every 8-week dosage after the initial five-month doses. Eylea is the first VEGF inhibitor approved for dosing on a less than monthly basis for the treatment of DME.
We at OCLI want to provide the best care for you and your eyes; contact us today for a free consultation.