OCLI is pleased to announce that we have been chosen to be the first practice in New Jersey to evaluate a new and revolutionary diagnostic and treatment system from Tear Science, The LipiView and LipiFlow systems.  This equipment will be in our office for the next week, and based upon its effectiveness, we hope to have it permanently in our facility in the near future.  This system is the first FDA approved diagnostic and treatment system on the market for those patients suffering from dry eye.
Dry Eye is a long-term chronic disease that takes years to develop.  Dry Eye may be suspected with the presence of the following dry eye symptoms:
dryness
discomfort and irritation
grittiness or feeling of a foreign body in the eye
burning or stinging sensation
tearing
redness
discharge
tiredness
itching
vision disturbance
sensitivity to light
Cost of Dry Eye Treatment
Dry eye syndrome impacts 100 million people worldwide, of which greater than 70 per cent suffer from evaporative dry eye.  The costs of dry eye can be astronomical.   Treatments for dry eye present a global market of over $2 billion in sales with an annual growth exceeding 10 per cent (due to aging population).   The average annual direct cost per patient ranges from $678 for patients with mild dry eye to $1,267 for severe cases. If pharmaceuticals and punctual plugs are used the costs rise to $2,959+ per year.  Mild and moderate dry eye sufferers incurred a productivity loss valued at more than $12,000 annually, while severe dry eye patients lost about $18,000 in workplace productivity.     Dry eye experts believe that an effective treatment needs to address deficiencies of the protective oily lipid layer of the natural tears.  We will talk more in depth about dry eye in a future posting, but for now let's discuss what we hope to achieve with this exciting new technology.
How the LipiView Ocular Surface Interferometer Works
Diagnosis of dry eye can now be more accurately made with the LipiView Ocular Surface Interferometer, a new tool to help us evaluate the tear film in patients with dry eye disease. The LipiView images the tear film via a non-invasive in-office exam that takes less than 5 minutes.
The LipiFlow Thermal Pulsation System is a leading-edge technology that is designed to unblock these meibomian glands by applying a combination of precise localized heat and recurrent pressure to the eyelid while protecting the eyeball. The goal of unblocking the glands is to allow the body to resume its natural course of oil secretion necessary for a healthy tear film.
My Experience With LipiView
After the installation of the Lipiview unit on Thursday, I had my own eyes evaluated.  The results were quite surprising to me.  About 5 years ago I had a case of Bell's Palsy.  Fortunately, it completely resolved after a few months.  However, I have always been aware of my right eye ever since.  The LipiView was able to diagnose my problem. As shown in the video below,  I do not completely close my right eye (left side of screen), and I have a reduced tear film in both eyes.

After reviewing my LipiView findings, I decided to be one of the first patients treated with it in New Jersey.  The LipiFlow treatment begins with the administration of anesthetic eye drops for maximum patient comfort. A LipiFlow eyepiece was then carefully placed on my eye, and I closed my eye around the piece. Next, the device was activated to deliver gentle pressure and warmth to my eyelids, thereby melting away the blockages within the glands. During the next 10 minutes, the LipiFlow device delivered precise amounts of pressure and pre-programmed degrees of temperature to facilitate an optimal treatment outcome. The procedure was surprisingly well-tolerated by me, I only felt gentle pressure and no pain. Total treatment time was 12 minutes.
Its been 3 days since the treatment, and I can honestly say that I am much less aware of my eye!  I am very encouraged that this may be the first effective treatment for my many dry eye patients, who are only achieving temporary relief with current treatment regimens.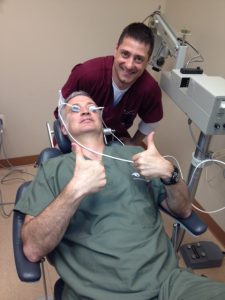 Possible New Advances in Dry Eye Treatment
So , now that we have a diagnostic tool for dry eye, what can we do with it? Most treatments for dry eye involve the replacement of natural tears with artificial ones, providing temporary symptomatic relief. There are two main forms of dry eye, evaporative and aqueous deficient.  It's only recently that researchers have been able to pinpoint the differences and the causes. At least 65% of dry eye patients have Evaporative Dry Eye.   This occurs when the water (or aqueous) in tears evaporates at a faster rate than normal, due to an insufficient lipid (oil) layer on the surface of the tear film.   It's a result of blockage in the oil-producing meibomian glands located within the eyelids (referred to as Meibomian Gland Dysfunction). Very few patients suffer exclusively from Aqueous Deficient Dry Eye, which occurs when aqueous generation from the lacrimal gland is insufficient to keep the eyes moist. If you've been unable to receive long-lasting relief from the remedies you've tried, it may be because they haven't been targeting the primary cause of your condition.
Unfortunately, Insurance does not cover the costs of this exciting new diagnosis and treatment tool.  As I mentioned previously, we will have the equipment in the office for the next week to further evaluate its effectiveness on our patients.  Anyone interested in giving it a try should call the office  at 973-560-1500 or e-mail us at Request an appointment to set up a LipiFlow appointment.  Anyone evaluated or treated this week will be able to try this treatment for a discounted "trial/evaluation" rate.