Eric D. Donnenfeld, MD, has successfully performed the first Cataract Surgery in the United States, utilizing FDA approved DEXYCU™ (dexamethasone intraocular suspension) 9%, at Island Eye Surgicenter in Westbury, NY.
EyePoint Pharmaceuticals, Inc. is a specialty biopharmaceutical company committed to developing and commercializing innovative ophthalmic products, announced yesterday that it has commercially launched DEXYCU 9% in the United States. DEXYCU is the first and only U.S. Food and Drug Administration (FDA) approved intraocular steroid for the treatment of postoperative inflammation and is administered as a single dose at the end of cataract surgery. DEXYCU is intended to replace the use of steroid eye drops which have a dosing regimen that, depending on the brand, can require self-administration for up to four times a day and titrating down over four weeks. This complicated dosing regimen can often lead to poor patient medication management.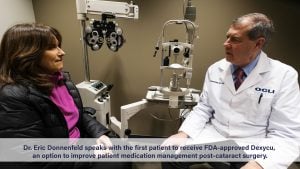 Dr. Donnenfeld expresses his support of innovation to enhance patient outcome, "Today was an important day for Ophthalmology. The FDA approval of DEXYCU allows patients having cataract surgery to have their medication placed inside their eye. This improves patient compliance, quality of life and is the first step in eliminating eye drops in cataract surgery."
The launch of DEXYCU will be phased, with the initial phase being to leading cataract surgery experts such as Dr. Donnenfeld, to ensure proper training on DEXYCU's administration ahead of its wider availability in the ophthalmology community. EyePoint Assist, the Company-sponsored program designed to ensure access to DEXYCU, is available for eligible patients in need of financial assistance.
Tom Burke, CEO of Spectrum Vision Partners commented on today's news, "Spectrum Vision Partners is proud to continue its collaboration with national leaders who bring the latest innovations in advanced cataract surgery to their patients. Dr. Donnenfeld, the OCLI vision experts and the Island Eye Surgicenter team have delivered another advancement to improve visual outcomes and their patients' lives. Performing the first FDA approved DEXYCU drug delivery in the United States is another example of their leadership in the ophthalmic field. We applaud the success of Eye Point Pharmaceuticals with this application of their delivery system and look forward to continuing SVP's collaboration with our doctors as they continue to improve patient care."
Congratulations to Dr. Donnenfeld, the OCLI Vision experts, and the Island Eye Surgicenter team for continuing to lead and innovate the improvement of patient care.
For questions about any of our services, please call us at 1.866.SEE.OCLI (1.866.733.6254) or email us at OCLIinfo@ocli.net