Keep your eyes on the game and safe from injury with sports safety glasses.
Now that we have officially entered the month of March, some of the most exciting (and competitive) few weeks of sporting  competition are about to kick off, leaving just one accomplished winner crowned at the end of it all. We are, of course, talking about March Madness.
For basketball fans, or just sports fans in general, March Madness is one of the most intense sporting events of the year, where fans get to see the greatest college basketball teams in the country compete against each other in a one-game elimination bracket challenge to see who comes out on top to become NCAA Champions. However, while basketball is obviously at the center of this March event, another large aspect of the March Madness fun is filling out your bracket and competing with your friends to see whose guesses at champion are closest to being correct.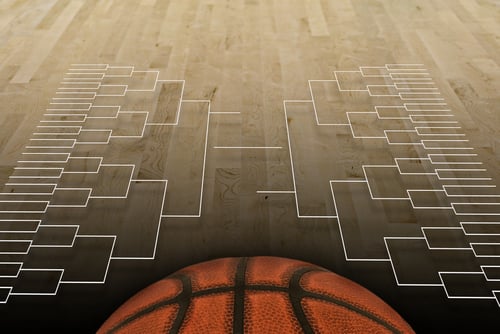 However, when it comes to intense sporting competition and taking guesses, especially when if it's taking place on the basketball court, on the football field, or any other physical environment, it's important to protect your vision from the physicality of sports so you can keep your eyes on the game and safe from injury. You should never guess or take your chances when it comes to your long-term vision health.
The Importance Of Sports Eye Safety
According to the American Academy of Ophthalmology, more than 40% of eye injuries every year are related to sports or recreational activities. Among all of the eye injuries that were reported, only 5.3% of those who were injured said that they had been wearing safety or sports glasses at the time of their injury.¹
Unfortunately, as fun and exhilarating as sports can be, they have the potential to be just as dangerous to your eyes. Sports-related eye injuries occur frequently in all different sports, but especially in basketball, water sports, baseball and softball. However, wearing helmets or regular glasses are not enough to provide full protection. The simplest and most effective way that you can protect yourself from sports eye injuries is by wearing protective glasses.
Eye Safety Options For Athletes
Each and every sport has its own recommended sports eye protectors that have been recommended and approved by the American Society for Testing and Materials. Proper safety glasses can run anywhere from $20 to $40 for a pair of regular eye guards, and up to $60 for eye guards that feature prescription lenses. For a full list of which eye-safety standards have been set for each sport, be sure to check out our previous blog post on keeping your eyes safe during sports and physical play.
Also, if you are an athlete that wears prescription lenses, you may want to consider a more convenient, less intrusive option if you are planning on participating in physical activity regularly. For example, LASIK eye surgery is a great option for athletes, as you no longer have to worry about having to balance prescription lenses with protective eyewear. Plus, you will be much more comfortable without having contact lenses or glasses getting in your way while you are competing to become the next March Madness MVP!
And don't forget to join OCLI's Bracket Buster.  Brackets will be open on Sunday March 16 for all those interested in joining  Stay tinned for more information as we get closer to March Madness!
To learn more about LASIK eye surgery or protective sports lenses, be sure to contact OCLI today.