Surgeons using this high-tech laser share their experiences with the technology.
While Dr. Cary Silverman of OCLI recently became the first ophthalmologist in New Jersey to offer the new, state-of-the-art HD Femtosecond Laser Cataract Surgery with the Catalys Laser System, a handful of progressive cataract surgeons across the country have been using this high-tech system for as many as two years. Since it was introduced, this technology has been deemed controversial among ophthalmologists, mainly due to the high cost of the laser. However, new reports from these surgeons show that the cost of these systems is well worth the price tag.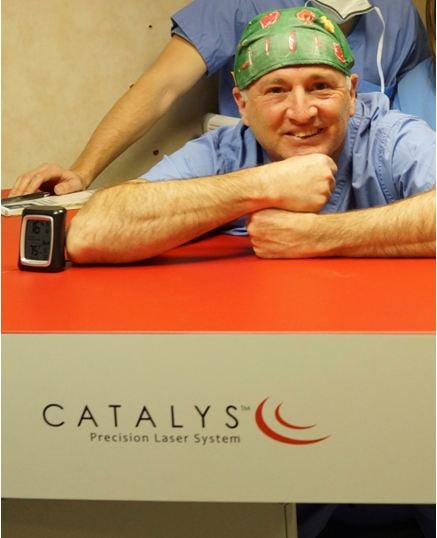 The reason why Femtosecond Laser HD Cataract Surgery is  preferred over regular (SD) cataract surgery is because of the accuracy, safety and recovery time that it offers. It also offers the chance to reduce and control astigmatism in cataract patients ―an unparralled accuracy impossible to achieve by hand, meaning better vision without glasses.
To learn more about why many leading ophthalmologists in the eye care industry are choosing Femtosecond Laser Cataract Surgery, here are just a few testimonials from surgeons who are currently using this high-tech laser technology to rid patients of cataracts and improve their vision:
"I've used a number of femtosecond lasers, and the one we purchased for cataract is the easiest one I've ever used . . . The ability to do LRIs with great precision with the help of OCT was a selling point. I have patients who want multifocals but have so much astigmatism that I don't feel I can correct it manually. With this laser, I can. That was what really got me interested."
– Barbara Bowers, MD. Owner and medical director at Barbara Bowers MD PLLC & Paducah LASIK Center in Paducah, Ky., and assistant professor of ophthalmology at the University of Louisville.
"It did sound really good for doing relaxing incisions after corneal transplantation, so I started doing that. I did about 25 cases, making me more familiar with the technology. I saw that the OCT really provided a tremendous advantage in terms of the depth of the incision and precision of placement."
– Henry D. Perry, MD. Senior founding partner at Ophthalmic Consultants of Long Island  and chief of the corneal service at Nassau University Medical Center.
"When I look at these eyes, the rhexis is prettier; it looks nice and it overlaps great. And it makes some sense that a perfectly round, symmetrical cut would help the lens stay in position better; it would tend to shrink-wrap evenly when the capsule contracts after a couple of weeks. "
– Uday Devgan, MD. Chief of ophthalmology at Olive View UCLA Medical Center, associate clinical professor at the UCLA School of Medicine, and in private practice at Eye Surgery in Los Angeles.
"You can correct larger amounts of astigmatism with the laser. And if you have a toric lens, combining that with the laser allows you to make the astigmatism correction very precise. Although doing the capsulotomy is a little different from doing one manually, it's a perfect circle, the exact size you want and centered where you want it to be. A skilled surgeon can come close to that, but there will always be times when something goes awry."
  – Jonathan Stein, MD. Clinical assistant professor at NYU School of Medicine and a cataract and refractive surgery specialist in Fairfield, Conn.
If you are looking to learn more about Femtosecond HD Laser Cataract Surgery or are interested in finding out whether or not you would be a good candidate for this procedure, be sure to contact OCLI today.
Image: Source | Quotes: Source