Protect your eyes while in the pool this summer with these simple tips.
Now that we have officially entered the month of May, the longer days of sunshine and rising temperatures can only mean one very exciting thing for kids and adults of all ages―the summer season is nearly upon us. Whether you prefer to spend your long summer days traveling along the sandy coast visiting friends and family, or you are more looking forward to spending a quality summer vacation with your kids, summer has no shortage of fun, outdoor activities to keep you company.
However, when the weather truly starts to grow sunny and warm, there is no activity that people enjoy more than being in or around the water. Splashing, wading and paddling around your local pool or beach on a hot day is a great way to beat the heat and have some fun outside. However, between playing Marco Polo, perfecting your dive off of the diving board and doing cannonballs, most people don't think much about the safety of their vision.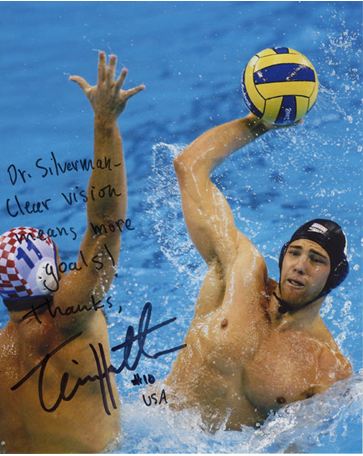 Swimming with your eyes open under water can produce a number of different effects on the eyes, including redness, dry eyes and stinging. Pool chemicals and pH levels can also negatively affect your eyes if they are open while you're swimming. In addition, for those people who wear corrective lenses, you constantly have to worry about losing a contact or being able to see clearly once you get out of the water.
Therefore, if you are someone who is planning on spending an extended period of time in the water this summer, be sure to follow these vision safety tips that will keep your eyes healthy and happy all season long:
Be Aware Of Your Lenses
Contact lenses should not be worn while swimming!  If you wear contacts in the pool and swim with your eyes open, there is a good chance that your lenses will fall out and become lost. (Finding a contact in the water is an impossible feat, even for the most skilled of divers.) However, that is not the only thing you have to worry about when wearing contact lenses in the water. Wearing contact lenses while swimming can lead to an increased risk of infection related to microorganisms found in water. These microorganisms can attach themselves to your contact lenses, causing pain, swelling and irritation of the eye.
If you worry about not being able to see in the pool without glasses or contacts, you may want to consider the many benefits of LASIK eye surgery. Not only will this save you from the hassles of corrective lenses when swimming, but it can also improve your eyesight for many seasons to come.
Wear Goggles For Under Water Vision
If you have ever swam under water with your eyes open, then you may have noticed how poor your vision becomes once you are below the surface. This is because light does not reach your eyes under water as well it does in other situations, causing your vision to appear unfocused. Therefore, if you are looking to be able to see well while under water, it is important to buy proper goggles.
Goggles not only allow you to open your eyes and see well under the surface, but they also protect you from the chemicals and chlorine often found in pools. Prolonged exposure to these chemicals can cause irritation and itching if proper protection is not worn.
To ensure that you have a fun summer full of swimming and free of vision problems, be sure to follow these simple tips that will keep your eyes healthy and happy each time you jump in the pool.
Image: Source