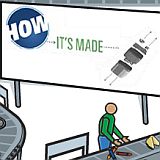 Potential LASIK patients are very interested in seeing LASIK surgery. Yesterday on Twitter, someone posted a video of their live surgery. Responses ran the gammot from "that's incredible" to "that is really gross!" I always tell people that the surgery looks worse than it is, there really is no pain during the surgery.
Today, I did LASIK on a 19 year old graphic design student. After the surgery, he mentioned that the experience was a lot easier than he saw. I asked what he meant, and he told me he saw an episode of "How It's Made" on the Discovery Channel that explained LASIK. Well, I found it on YouTube and
here it is.
My technique is a little different and quicker, but the program gives a good overall description of the LASIK procedure. It's much better than the video posted on Twitter, and remember, going through the procedure is much easier than it appears!