The Seeing Eye, Inc., the oldest existing dog guide school in the world is turning "80" this month. To help celebrate, OCLI is encouraging our friends and patients to become a "hero" and a "fan" all at once.
From now until the end of April, for every person who becomes our Facebook fan, OCLI will donate 80 cents to the Seeing Eye. Feel free to pass this to a friend, encourage them to check us out on Facebook and help us spread the word about our efforts! Simply click here to be connected to our Facebook page. While you're there, read and listen to some of our patients' LASIK testimonials and learn a little more about our practice.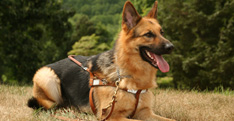 The Seeing Eye, located in Morristown, was founded in 1929 by Dorothy Harrison Eustis and Morris Frank. The Seeing Eye enables dog users to experience a greater sense of independence and mobility despite their visual impairment or blindness. They rely solely on the financial support and generosity of many local corporations and individuals and receive no government assistance.