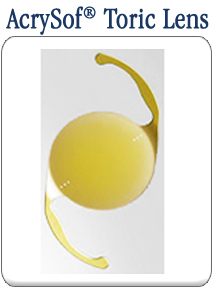 I am pleased to report that I learned today, from Alcon, that the FDA approved the Acrysof Toric IOL for expanded range of high astigmatic treatments. Until now, we have been able to treat up to 2.5 D of astigmatism with the currently approved Toric IOL.
Patients with high corneal astigmatism (>2.5 D) have experienced poor vision their entire lives. As they enter retirement, they develop cataracts, affecting their vision even further.
This new approval allows us to expand the treatment range for high astigmatics and to provide these patients the opportunity to:
Improve their vision by removing the cataract
Simultaneously correct their high pre-existing corneal astigmatism
Improve their vision and have a high probability to be spectacle-free at distance
This lens has been approved in Europe for over a year and has shown remarkable results.  My only complain ?  (which I have voiced before)  That the FDA in our country has allowed eye care elsewhere to lead the way in providing innovative therapies to their citizens.  I guess its better late than never!