In honor of April's Sports Eye Safety Month, be sure to follow these vision tips!
After the long, cold, seemingly-endless winter that we just left behind, kids and parents alike all across the country are beginning to lace up their sneakers, inflate their basketballs and rush outside to enjoy some sports activities in the sunshine. Plus, with the summer weather just a few weeks away (knock on wood), it will be sooner than we know it that we can add fun water sport activities to the mix as well!
However, before you rush off into the spring outdoor weather and take position in your favorite outdoor sport, it is important to remember your sports eye safety glasses. In fact, because April is such a popular time of year for sports in general, it has been officially recognized as Sports Eye Safety Month in order to remind both parents and children about the dangers of sports to our vision, and how you can best protect yourself against common mishaps. After all, about 90% of eye injuries are preventable through use of appropriate protective eyewear, so there is no reason to risk sitting on the sidelines all season long because of an injury.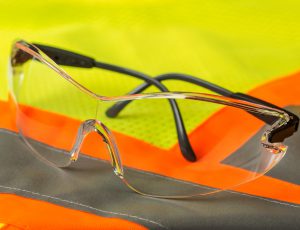 In honor of April's Sports Eye Safety Month, here are just a couple important vision safety tips that you should be following each time you step up to bat—or participate in any other kind of sport or physical activity.
1. Sunglasses do not replace safety goggles. In fact, because sunglasses are not shatterproof and can easily be broken, they can often be more dangerous than not wearing any kind of safety glasses at all. This is because broken pieces of sunglasses can easily end up in your eye if they are broken on contact.
2. Stick to polycarbonate lenses when possible. While there are a number of different brands of safety glasses out there made of all different kinds of materials, polycarbonate lenses are usually your best choice. This is because these lenses are about 10 times as impact resistant as other materials, making them much more protective in the long run.
3. Just because a sport is no-contact, doesn't mean there is no chance for injury. In fact, some of the most high-risk sports out there are sports in which there is no tackling or fighting. For instance, baseball is the most common cause of sports-related eye injuries in kids age 5-14, and basketball is a leading cause of sports eye injuries in people age 15-64. Therefore, make sure you are wearing protective eyewear even if you think there is no chance at injury.
4. While sports eye safety glasses may seem like an excessive cost, they can save you plenty in the long run. Did you know that the average cost of a basketball eye injury for a child under the age of 15 is $3,996? How about that $175-200 million is the estimated annual cost associated with sports eye injuries in the United States alone? So while $10-$40 for sports goggles may seem excessive at first, it's actually the cheapest option in the long run.
5.  Since 2006, NJ Law has mandated that any child who wears corrective eyeglasses must wear sports glasses when playing certain sports. The sports included are: racquetball, squash, tennis, women's lacrosse, basketball, women's field hockey, badminton, paddleball, soccer, volleyball, baseball or softball, sponsored by a school, community or government agency.  This Law has no bearing on children who do not wear corrective prescription eye glasses or those who wear contact lenses. However, we recommend that all children wear sports glasses while participating in sports that can potentially cause injury to the eyes. Sports activity is the leading cause of eye injuries in children but fortunately, the great majority of these can be prevented by wearing protective eyewear.
To help you learn more about sports eye safety, as well as teach you about the common risks that are associated with these types of injuries, here is a helpful infographic created by GetEyeSmart.org, a website created to share eye health information by the American Academy of Ophthalmology.

Source: