Show your father how much you care through the gift of LASIK eye surgery.
For many people all across the country, the summer season is notorious for the large amount of parties and celebrations that occur throughout the hot, sunny months of June-August. Whether you are planning on taking a long weekend at the beach to celebrate 4th of July, or you let your American spirit shine bright throughout this past Memorial Day, these events are a great excuse to get outside and soak up the smells and sights of the seasons with those that mean most to you.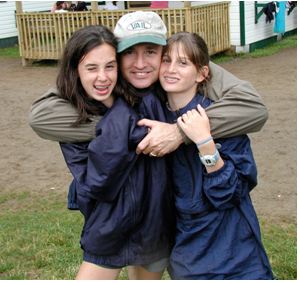 However, in every person's life, there is perhaps one person who comes above all the rest and needs  their own day of recognition simply so we can share how much they mean to us. We of course are talking about the wonderful father's of the world and the many ways that we can celebrate them this Father's Day.
If you still have yet to find a gift that is just right for dad―whether that be a trip out to the driving range, catching a local baseball game, or simply a delicious dinner whipped up at home―you better get moving on your Father's Day gift ideas because this meaningful holiday is only days away!
However, if you are absolutely stumped as to what is an appropriate gift to say "thank you" after all of these years, why not consider giving your dad the gift of sight this summer through LASIK eye surgery? This procedure is one of the most popular and efficient alternatives to corrective lenses that is currently out there, and it has helped dad's everywhere ditch their contacts or glasses and truly enjoy their summer activities.
Luckily, thanks to our amazing staff, OCLI offers affordable LASIK Eye Surgery for patients throughout New Jersey and New York. Not only do we offer the option of paying by cash, check or credit cards, but we also offer financing to help cover the cost of LASIK.
LASIK Eye Surgery also helps open up the door to a lot more fun summer activities. In fact, one of the main reason people choose to have LASIK Eye Surgery is so that they can participate in activities that glasses and contact lenses prevented them from previously doing. Summer is the most exciting time for post-LASIK patients as they can finally swim, do water activities, and play sports without having to worry about their lenses.
Many former LASIK patients have also come out on record stating the many benefits of this procedure, as well as how it has changed their life for the better. For instance, 96% who underwent the LASIK eye surgery procedure reported that their overall quality of vision was as expected, better or much better than expected.
If you are still struggling with a gift idea that will knock your dad's socks off  for Father's Day this weekend, why not consider LASIK surgery. After all, clear, healthy vision is a gift that will keep on giving long after the day is over.
Image: Source